I'm very happy to have the opportunity to see Kellie Olver at
TSC
as a guest!
Kellie was a hostess for a number of years at
TSC
and I never had the chance to see her before this day. She was beloved by her co-workers at
TSC
and she was also the favourite hostess of countless of viewers who adored her. I would have loved to see her as a hostess!!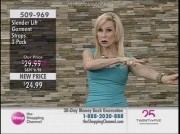 View this gallery
Download a short video of this gallery